Principal's Message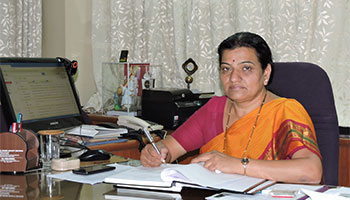 Dr.Sneha Pitre, Ph.D.,
Dean, Faculty of Nursing,
Principal, College of Nursing, Pune
I am very happy to welcome you to BVDU College of Nursing Pune . The increasing requirement for professional nurses in various settings like, hospitals and community-based settings all over the world is well known. The college prepares students to meet the exciting challenges of professional nursing. Students of this college gets an opportunity to prepare themselves to meet the demand for the challenging health care services.
This institute is the first private college in Maharashtra. It was founded by Dr.Patangarao Kadam. It had started with only Basic B.Sc. nursing course in 1992. Since then it has expanded to add on to various courses in nursing .Presently college runs programmes like General Nursing and Midwifery (GNM), B.Sc. nursing, Post basic B.Sc. nursing, M.Sc. nursing and Ph.D. The courses run in this institute is recognized by Indian Nursing Council, Maharashtra Nursing Council and U.G.C. Bharati Vidyapeeth (Deemed to be University) is awarded with "A" grade by NAAC in 2004 and re-accredited in 2011.
The college is situated in a sprawling campus at Dhankawadi, Katraj, Pune. Quality education is our motto.To deliver this the college is well equipped with various laboratories also have an 850 bedded parent hospital for the clinical experience of the students.
Alumni are appreciated at national and international level . Due credit goes to our dynamic and experienced faculty who is always engaged in overall development of our students.
I am sure you will find our college is just the right place for you to craft your future.